QA

&

T

esting Services

Quality Assurance Testing Service offerings include overall quality planning, integrated testing, test plan and methodology development, test script creation and execution

Start-up product organizations have business challenges like unavailability of concrete product roadmap, extreme pace of product modification, short turnaround time of deliverable's / releases / hotfixes, smaller team size, high burn down rate, modest engineering infrastructure. These have associated QA challenges like smaller QA cycles, subjectivity in product quality, lack of rich test data, lesser time for requirement analysis, and multiple parallel quality initiatives.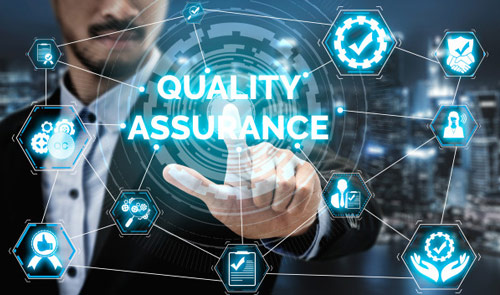 Quality departments or Quality partners aka testing service providers are expected to deliver:
Highest quality of service
At minimal cost of quality
Business Challenges:
Conventional approach for product organizations is to setup an in-house quality organization by hiring a QA Manager and building team under the QA Manager.In the agile software product world, this conventional approach has many limitations such as individual QA manager cannot attract best QA talent single handedly. Talent acquisition has been a significant challenge for product start-ups. People learn at your cost and then move on and hence there is periodic ramp-up cost.
On the other hand, wrong hires at times become liability in the organization.Also with software product organizations people need to be more patient to realize the growth. QA people (in fact every individual in the product organization) need to take on different responsibilities other than core responsibilities, which at times compromise quality focus.
Other limitations include, Inability to maintain varied skill sets (e.g. test automation, performance testing, security testing, etc.) in the smaller team and Additional cost of QA infrastructure (e.g. performance lab, test automation environment, QA environment, etc.)
Key Differentiator:
We focus on addressing these challenges by working hand in hand with the client as a QA partner.We build a QA team from scratch, which has a combination of required roles in the QA department such as QA Lead / QA Manager, Test Engineers, Test Automation Engineers. Every QA engineer has requisite skills like test automation, performance testing, security testing which is well complemented by strong in-house Centers of Excellence in these areas. Since we have a singular QA focus, it is easier for us to acquire QA talent and provide excellent QA career map.
We have unbiased focus on quality which is critical for your product organization. Our recruitment (for laterals as wells as fresh recruits) happens asynchronous to the need of projects and hence it is mostly the case that almost the entire team is available on the day 0 of the project with sound training of QA process already in place. We have done good investments in terms of hardware and networking infrastructure and various devices (e.g. Servers, NAS / SAN storage's, mobile devices, etc.). We have been investing in leading test tools and has developed its own set of rich test automation accelerators which helps in saving significant test tools cost to the customers.
Customers benefit from such hardware and software assets without any CapEx. In many cases, we have built QA teams over a period and transferred these teams to the respective customers as per mutual convenience. We work in all combinations of onsite and offshore model. Depending on the need the Project Coordinator who engages with the customer from day 1 and typically works in the same time zone as that of the customer. Daily or weekly interaction between the customer team and our QA team takes place through email reports, calls, etc. to ensure goals and deliverable's. Other than this, frequent interim review meetings with customer ensure availability of right talent and excellent quality deliverable's.
Value add:
Agile QA methodologies
Skilled QA professionals with hands on skills of functional, non-functional and automated testing
ISTQB / CSTE certified professionals
Rich experience in increasing test coverage via new techniques(e.g. mind maps)