L

ife

C

ycle

M

anagement Services

Application Lifecycle Management Services

As the role of technology in business changes from business enabler to business transformer, the range and complexity of systems and the dependence on them has increased and will continue to increase. Today's IT and business organizations must address the need for stability, performance, functionality and usability across an ever-changing and increasing conglomerate of legacy, hosted, proprietary and cloud systems – and to do so in a way that maximizes the business value of these systems without unnecessary cost escalation.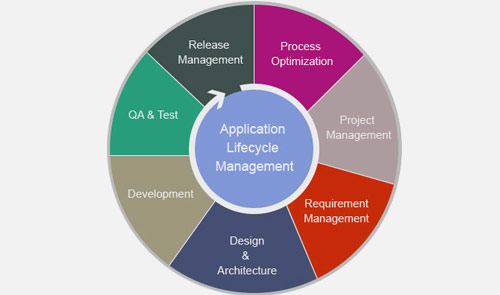 Systems and applications continuously change due to change in business conditions, new business processes, new technologies, new regulations as well as new integrations techniques and tools. To incorporate these business and technology changes seamlessly in the business flow, the existing infrastructure and applications have to be efficiently managed not only to avoid the downtime, but also to ensure they achieve the maximum possible throughput for the enterprise.
Eliostech provides complete lifecycle applications management support for our clients, whether our teams have developed the applications or not. Our experience in software and systems technology development and management along with our background in applications development gives us a unique background in delivering end-to-end applications management throughout the lifecycle of the applications using a range of services including:
Application Assessment and Audit
Eliostech Application Assessment and Audit Services are a family of packaged and customized services for evaluating different enterprise business applications. The services involve auditing the target application against a series of benchmarks and criteria, and providing a detailed written report of audit findings along with a series of recommendations for addressing issues identified.
These audits principally cover three areas:
Architecture Audits
Security Audits
Performance Audits
Application Support and Maintenance:
Eliostech has a proven methodology for application maintenance including application support, technical, and functional support for existing applications as well as ongoing enhancements. We begin with corrective, incidence-based maintenance, evolving to adaptive and preventive maintenance. We work with our clients to ensure that these maintenance services enhance application stability, lower support costs and reduce total-cost-of-ownership (TCO). The processes include building simplified knowledge management models that document application features, functionality and work processes.
Our support process involves:
Incident logging and documentation
Incident Investigation
Troubleshooting and resolution
Incident Management
Knowledge base enhancement to reduce incidence occurrence
Application Enhancement:
Eliostech Application Enhancement Services are based on a formal process for improving the value of an application asset during its operational lifetime. Eliostech Application Enhancement program comprises analysing and implementing potential improvements to an application in terms of technology, business functionality, regulatory compliance and operational efficiency. The end result for the client is an application with optimized cost of operation, enhanced business functionality, increased effective lifespan and ongoing regulatory compliance.
Rather than simply responding to ad hoc change requests during the lifetime of an application, Eliostech believes in a systematic enhancement program aimed at improving all aspects of an application.
Our application enhancement services are tactically broken down into two categories:
Request for Change (RFC) Implementations
Functional Uplift
Regulatory changes
Technology/infrastructure related changes
Application/System Migration
Many enterprises figure that they should migrate their applications to remain competitive. Reasons include lack of skills in legacy technology and applications, waning in relevance of old application platforms and prohibitively high license fees. In some cases, these applications are running well, but they're dependent on outdated or unsupported platforms. Sometimes, these applications need to be migrated to enable them to exchange data with newer applications.
To help such companies lower the cost of migrating or enhancing their applications, Eliostech provides services for:
Integration and enhancement of legacy systems with new technology architectures
Migration of systems to new architectures, languages, databases and web-based environments
Migrating a legacy or existing application to a new operating environment, including cloud and SaaS platforms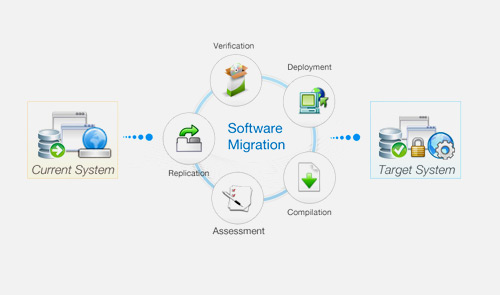 Migration of applications and systems involves deep understanding of technologies including operating systems, languages, middleware, platforms, databases and development environments. It also involves tedious, detail oriented work, which many internal IT employees find unrewarding. Having worked with various technology companies over more than two decades through several computing paradigms such as host-based systems, client-server environments, web-multi-tier architectures to more recent mobile & cloud paradigms, Eliostech professionals have the unique ability, knowledge and the experience to undertake complex migration projects through minimum operational hassles to our customers.
Application Performance management and Tuning
End-to-end application performance is dependent on the complex interaction between multi-tier applications, servers, storage and network infrastructure. Through our decades of experience in building, deploying, managing and tuning large scale systems and applications, Eliostech professionals have developed a broad set of knowledge base, which includes intelligent analytics to improve application performance and enhance end user experience with baseline assessments, dependency mapping, predictive planning, testing, monitoring, and troubleshooting.
Our performance management services include:
Application baseline performance analysis
Application performance testing and evaluation
Server consolidation and virtualization analysis
Troubleshooting and root cause analysis
Performance monitoring, alerting, trending, and analysis
Cloud Readiness Performance Assessment
Data Center Consolidation Performance Strategy
Application Security Analysis, Enhancement and Testing
The security of IT infrastructure, applications and data are a key concern for most organizations. Any potential breach of security of these important assets raises fears of IP theft, which could result in severe financial damage, regulatory non-compliance and business continuity failures. While the issue is well understood, many organizations see a major a need for an effective end-to-end set of services that establishes a firm baseline for IT security and which is continuously enhanced as the threats become more severe, technologies become more available and security standards get continuously updated.
Eliostech comprehensive application security service encompasses reviews, assessments, enhancements and continuous maintenance of:
Business security requirements
Software development best practices
Operational security application frameworks for identity, access, business continuity and monitoring
Our Security Review and Enhancement Process includes the following steps, which are repeated on a continuous basis
Feature identification
Vulnerabilities assessment & prioritization
Planning
Execution
Analysis
Bug fix
Application Modernization
Successful and mature legacy software systems run the day-to-day business operations for a long period of time. However, since legacy software is built using the then prevalent technologies, it could prove to be more difficult and expensive to maintain. Besides, the legacy technologies have their limitations, which result in curtailed functionality for the systems built using them. Upgrading the software incorporating more modern technologies and better functionality often becomes a critical need. Rewriting the software from scratch becomes a highly time consuming and expensive proposition.
Eliostech experience in building, implementing and maintaining software technologies and business applications makes us an ideal partner to help modernize your applications and thereby enhance flexibility, mitigate risk, and lower down maintenance costs. We enable you to address issues and pain areas in the existing system such as multiple technology platforms, high cost of maintenance, unsupported systems, lack of integration and newer capabilities such as web, mobile and cloud.
Our modernization services range from one or more of:
Technology enabling – such as web enabling, cloud enabling, mobile enabling, etc.
Re-engineering including componentization
User Interface Modernization
Platform Modernization
Architecture Modernization
Functional & Workflow Modernization
Application Security Enhancement
Application Performance Optimization
From our years of experience modernizing software products and applications, we have come up with some standard steps in achieving application modernization. They include:
Application Assessment: Analysis of existing applications to determine their complexity and structure, including identification and isolation of the embedded business rules.
Business and Technical Understanding: Better understanding of the nature and intended usage of the applications from a user perspective.
Target Definition: Clear definition of the structure that the application portfolio should take following the modernization effort, given the time and budget constraints.
Recommendations and Road Map: Synthesis of the insight gained during the earlier steps, combined with detailed metrics on the applications progress, so that the progress can be monitored objectively.
The visible outcome of application modernization effort can be summarized as:
Protection of existing investments and preservation of institutional knowledge
More return on investment from existing applications
Limited business disruption
Decreased operational risk and reduced costs

+91 995 176 1745

      info@eliostechinc.com