E

nterprise

M

obility

M

anagement

In the world of corporate and personally owned BYOD (bring your own device), Enterprise Mobility Management that allows IT admins to simplify managing and securing data security. It combines user, applications and content management with data security to connect, initiate and simplify device management and configuration.

In the world of remote working, conventional EMMs should provide employees and users with seamless internet access, use their VPN and access intranet data with ease.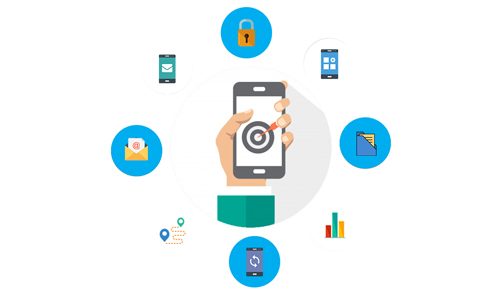 How EMM software works?
It is an amalgamation of Mobile Device Management (MDM), Mobile Identity Management (MIM). Mobile Application Management (MAM) and Mobile Content Management (MCM).
Mobile Device Management (MDM)- You can easily take control of Android, iOS, Windows from your smartphones, laptops, tablets, desktops itself. Real-time device location can be tracked and lost devices can be found easily. Thus, organizations make use of this solution to manage and secure devices for its entire lifecycle.
Mobile Identity Management (MIM)- It deals by ensuring that employees are provided suitable access and permissions while accessing data. Access controls include multi-factor authentication, single sign-on capabilities etc.
Mobile Application Management (MAM)- As per the name, it deals with the apps as a whole. The installation, configuration, update of corporate apps on mobiles are monitored thoroughly. This can also include monitoring of BYOD devices.
Mobile Content Management (MCM)- One of the major components of EMM is MCM. Business documents and media files are dealt with securely through authorised tools. It supports multiple file formats including documents and media. These documents can be categorized systematically with the help of tags and then distribute the associated content as per the tags. It is highly secured and prevents users from sharing it with other devices or copying to other apps. Employing MCM on corporate devices reduces chances of data breach.
Our Goal
With comprehensive mobile solutions, we assure you of a simpler, cost-effective and support to encourage BYOD devices. We can enable your enterprise to make the most of mobile technology in diverse industries and support major devices and platforms.
Benefits
Increase in security: With help of enterprise mobility solutions, best practices for mobile app security practices are followed and unauthorized access and malpractices can be avoided.
Time and Cost savings: With easy and secure access to data and storage, retrieval of data is synchronized across your mobile systems with complete access.
Easy user and device management: Each device is provisioned securely for easy retrieval of data. Required corporate and security protocols are followed in EMM and assigned to users. The de-provisioning is also taken care of, when an employee leaves.
Portability & seamless content sharing: With ease of usage, you get a systematic arrangement for data exchange and secure sharing allows to get uninterrupted content sharing. Any data can be accessed within a few clicks.
Expansion of horizon: When your business challenges and important data can be accessed securely by employees, you save time, which allows to explore new horizons. Streamlined business operations through mobile platforms highlight scalability that drives business.